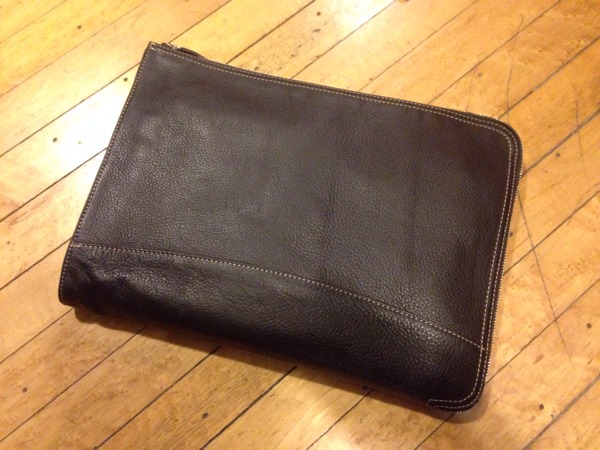 These days, I rarely carry a laptop with me. I generally only carry one when I have a client visit that requires it. Mostly, I carry notebooks, pens, my iPad mini, and sometimes a book. Therefore, I need a full sized bag with a laptop compartment far less these days. What I find I need is a smaller bag just large enough for the items mentioned above that also looks good for any occasion.
The Levenger Bomber Jacket Briefolio has become one of the bags that has been filling this need for me. It's designed primarily for just this use — gathering up some files, a notebook, a couple of pens, and possibly a tablet computer or eReader if one wishes. It's a great grab-and-go bag.
The first thing one will notice after purchasing the bag is the smell. Not in a bad way, mind you. Its just a bit overpowering at first unless you really like the smell of fine leather. It's made from the same soft, luxurious, and richly pebbled dark brown leather typical of World War II flight jackets. The lining is a soft plaid flannel that cradles your belongings in style. The hardware is nickel and very solid. Overall, it's rustic without being cliché. It strikes just the right balance. It looks equally good being carried by someone in jeans and a t-shirt as it would with someone in a business suit.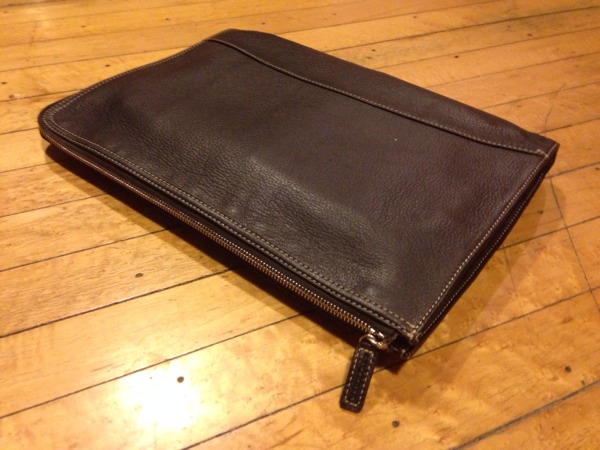 Inside, it's minimal and functional. There is an inside pocket where I keep some 3×5 cards, business cards, and a pocket notebook. There's a couple of pen loops. That's it. But , that's all I need really. This is a bag that is really about being able to stuff a few items in, keep everything contained, and allow for easy access thanks to its wrap-around zipper. There is no handle as it is meant to be clutched in one hand portfolio style (as the name suggests). But, this is perfectly fine for me as beforehand I was clutching the loose contents I now carry in this bag in a similar way.
In all, the Levenger Briefolio has been a favored companion in the few weeks I've had it. Levenger makes other models of Briefolios as well including a plain black leather one that is only $99.00. Very reasonably priced for the quality.
As I mentioned in my Levenger Circa article at Tools & Toys, Levenger is a fantastic company with some of the best service I've ever encountered. I'm a long time customer and fan for very good reason. I have never been disappointed with anything from them. They were started and continue to offer serious analog tools for writers and readers and deserve our support. So, even if the Briefolio is not your thing you should check them out. I'm sure they have something that would make your writing life nicer.