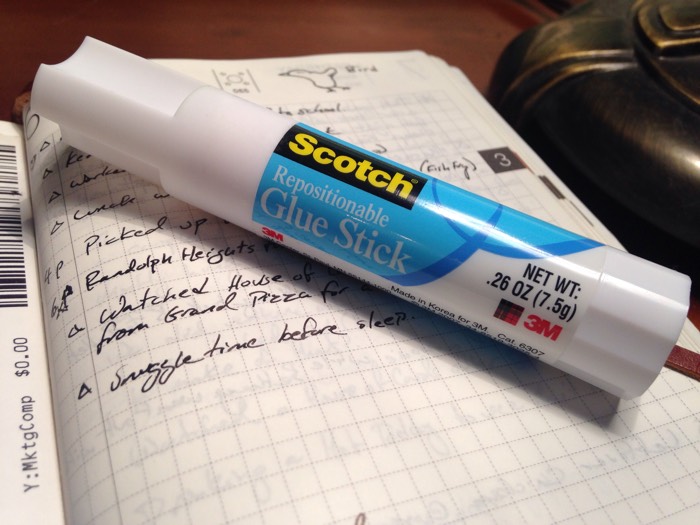 Scotch Restickable Glue Stick can basically turn piece of paper you have into a Post-It.
My daily log is more than just a place to take note of what I did that day, it also sometimes serves as a scrap book. So, I use a couple of swipes of this glue to keep things contained and prevent their sliding out. For instance, if I have a meeting and someone give me their business card, I'll stick that in there on that day. If I see a movie or a play, the tickets might find their way in as well. Of course, if a drawing or doodle is gifted to me from my daughter, those earn a place as well. I just lay down a couple of swipes on the back of the item, wait 90 seconds, then stick it down. Like a Post-It note, it makes the items easy to peel off and stick back down without damaging the paper or writing underneath.
Of course, it is not limited to a notebook, you could use this to make photos restickable to tack up on the fridge of office cubicle. Or, make a list of errands restickable for your car dashboard. The possibilities are many.
I've been using this stuff for a while now and recommend it. It's only $3.99 on Amazon for a pack of 3 with free Prime shipping as an add on item. Pretty good price and it will last you for a good long while.