by Patrick Rhone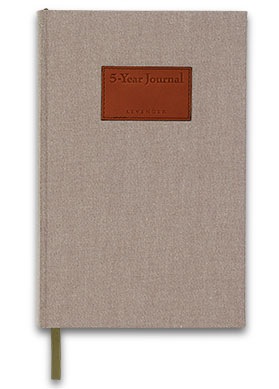 Many of my long time readers and those that follow me on Twitter and elsewhere, know how long and deep my love affair with Levenger runs. I have been a customer for over 20 years now. Words are not enough to describe the quality of their products, the attention to detail, or the outstanding customer service. Properly maintained, Levenger products are made to last a lifetime and then be passed along to your descendants for theirs.
I recently purchased a Levenger 5-Year Journal and it is true to every word stated until now. For those not familiar with how a 5-Year Journal works, there are Pages for 366 days, including February 29, with 1 page per day, with 5 line entries – one for each year. It allows just enough to highlight the bullet points of a busy day but forces brevity. It is like Twitter for a private and bygone era. There is no pressure to catalog every detail of life or how you are feeling. Want to simply write a single thought or idea? Well, that is OK too. The beauty is that, those who have felt the pressure of maintaining a journal in the past (like myself) will likely feel far less so with such a low barrier to entry. Take just a few seconds at the end of the day and write what strikes you.
The quality is extraordinary. The paper is bright, thick and takes fountain ink well with no feathering. The binding is clearly meant to last as a living document of record to be passed down for generations. The cloth and leather make it a stately addition to any desk or shelf. If I have one concern it is this – will I have enough for all of my years. I am seriously considering buying 10 more right now, for fear that I may not be able to 50 years from now.