The pocket notebook space has exploded in options recently. Thanks in no small part to the interest that Moleskine ushered in with their original pocket sized book that Field Notes Brand then took to new nostalgic and less precious heights. Now, there is an ever increasing amount of options available to choose from. So, if you even want to be noticed — let alone compete — you need to either be very different or decidedly better.
It is with these two goals seemingly in mind that the folks at Baron Fig approached their new pocket notebook, The Apprentice. It is meant to be a portable companion to their popular Confidant notebook.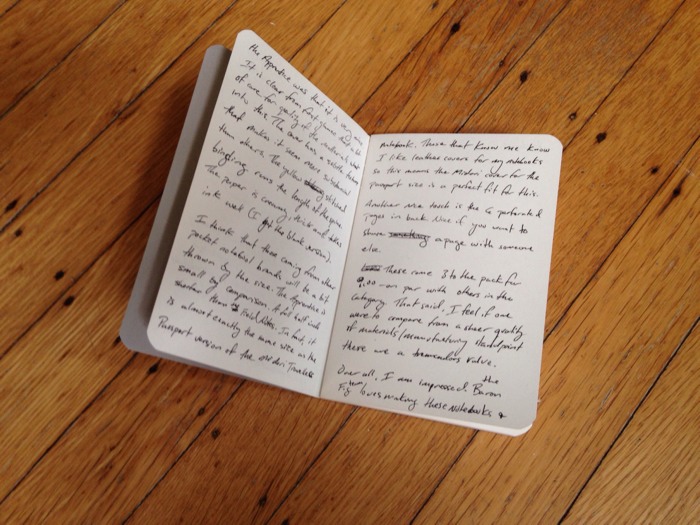 My first impression of the Apprentice is that it is very nice. It is clear from first glance that a lot of care and attention in the quality of materials used went into this. The cover has a subtle texture that makes it seem more luxurious and substantial that others in the space. The yellow sticked binding runs the full length of the spine. The paper is creamy and thick and takes fountain pen very well with little feathering and no bleed through (I got the blank page version). Another nice touch is the inclusion of 6 perforated pages in back. Nice if you have need to share a page with someone else.
I think that those coming from other pocket notebook brands will be a bit thrown by the size. The Apprentice is small by comparison. A full half inch shorter than Field Notes. In fact, it is almost exactly the same size as the Midori Traveler's Notebook Journal Passport Size. This also meant that it fits perfectly in the leather cover that ships with that one. A nice hack if, like me, you like leather covers on your notebooks.
The Apprentice comes three to the pack for $9.00 — on par with others in the category. That said, I feel if one were to compare based on the quality of the materials and manufacturing these are a tremendous value at that price.
Overall, I'm impressed with what Baron Fig has pulled off here. They love making good notebooks and it shows in the products they offer. Can't wait to see what's next.