I have a large book project I'll be embarking on very soon. For the past month or so I've been in preparation mode — both making the space for which it will happen and figuring out exactly what resources and tools I will need to ensure it goes smoothly. Because the project will likely require quite a bit of research and I'll be taking a copious amount of paper-based notes, part of that preparation has been thinking through a good solution to back up and organize all of it.
I think the lack of a solution for backing up paper based things is one of the most common reasons that people have against using paper. The "what if it gets wet/ripped/caught-in-a-sharnado?" question. And, I think it is a fair question to ask. Especially in a digital world where a little invisible software and simply saving something to a folder can create multiple backup copies of a digital file locally and the cloud in an instance.
Well, just because you are a fan of the analog does not mean you have to shun the digital. In fact, leveraging the digital might be exactly the answer to the backup question you need. For my personal needs, it had to be something pretty portable as some of the research and interviews will have me on-the-road and accessing archival documents. It, therefore, is something that has to be able to handle all sizes of notebooks and documents well.
Towards this end, I've been testing out the Doxie Flip Scanner. I was curious about this product when it first debuted, but could not really see having much of a use for it personally. With this project looming, and thus now seeing the need because of it, that need has changed and the Flip seemed to be perfect solution.
I've had one for a few weeks now and have used it to scan several types of notebooks, documents, 3×5 cards, and and ephemera. The bulk of these being the Field Notes notebooks I use to jot down random notes while on the go. I find myself going back to them from time to time to look things up I jotted down months before. I had a half dozen or so that I wanted to make sure were accessible and archived beyond siting on my office bookshelf. I also had some more recent book/story specific notes in a Baron Fig Confidant that I wanted to make sure were "backed up" should anything happen to them.
In all of these cases the Doxie Flip shines. It is very portable, it runs for hours off of four AA batteries (I'm using rechargeables), scans directly to an included 4GB SD Card, and has a lid that is removable. This means you can either scan by placing something on top of the scanner as is traditional or remove the lid and flip the scanner on top of the item you are trying to scan. The combination of these features offers a lot of flexibility and frees you from having to have a computer or power source to be able scan. The Flip even comes with a USB thumb drive sized SD card reader for easily importing your scans into the Doxie software.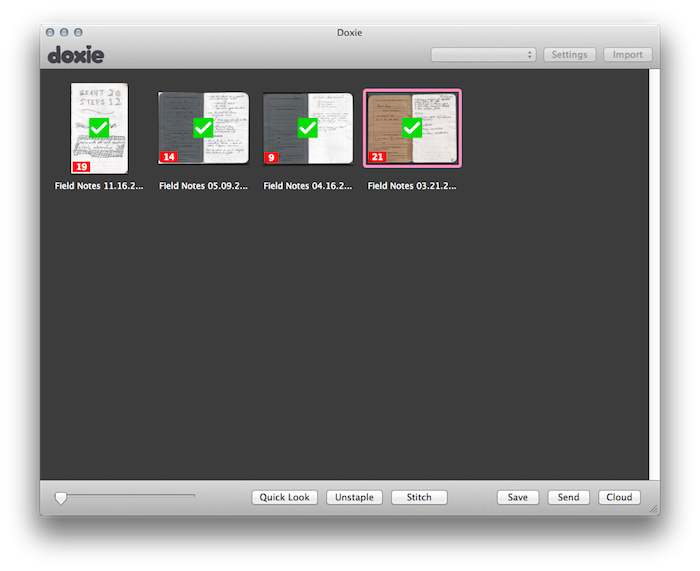 The software that works with the scanner is where The Flip really shines. The scanner itself is ideally sized for items like the Field Notes, 3×5 cards, or small sized Moleskines. But, this does not prevent one from scanning larger items in sections — i.e scanning the top part of a page and then the bottom part. Because, once you import those scans to the desktop software, it is really good at seamlessly stitching those scans back together into a single page when ready. The stitching feature also works well for notebooks where you would like to put two facing pages of a notebook back together side by side. No matter the situation, the software will analyze each of the selected pages and figure out how those pages should match up — after which, there is no way to tell that they were ever separate scans.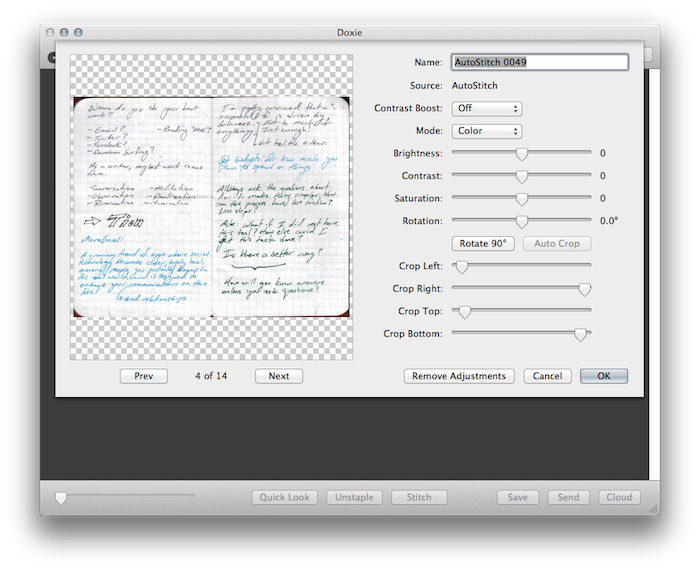 The software has a "staple" feature to organize your pages into a multipage document. So, for instance, a full set of your scanned notebook pages will be combined into one document. From there, you can save your scans as JPEG, PDF, or PNG. You can also send those scans to software like Evernote or iPhoto or save them out to Dropbox or Doxie's own cloud backup service. No matter, the software provides a tremendous amount of easy flexibility for making use of the items you scanned.
Though I did not test it, one can also import scans to an iPad using Apple's iPad SD Card Reader. From what I've read, these save to the Photos app. I intuit that one could then send those to Evernote, Dropbox, or ones enabled software app of choice from there. I could see this making for a truly excellent mobile solution.
In conclusion, I really like the Doxie Flip and see it as the perfect solution for my current project's scanning and backup needs. If you are looking for a way to backup your paper notes to the desktop or internet, it provides a mobile and flexible way of doing so. I highly recommend checking it out.
Update: My friend Randy Murray asked me how good the Flip was at scanning photos. I wasn't too sure as I did not test this much for the purposes of my usage and review. That said, like Randy, I too have tons of old family photos I would like to scan in a way that is quick and easy and that is easy for anyone (including my six year old daughter) to do. So, I tested it.
I'm happy to report that it works very well. If you have a similar photo archive project you've been avoiding, this might be the thing you need to get it going.
(That is my wife and her mother, by the way.)