I love Field Notes Brand notebooks. I've been a customer since the beginning. In general, I purchace several packs of each "special edition" COLORS release. I find them both fun and functional. They're built solidly enough and they break in well. Whereby, I tend to enjoy the patina they get and think they look even better when they are beat up and used a bit. As well, they have become very popular and enjoy an almost cult like following in the pen and paper circles.
But, sometimes, one might want to enjoy something similar, but different. For one reason or another — perhaps something in a different size or price point. So, I thought I would suggest two possible alternatives. One that is a little bit smaller in size, yet higher paper quality and cost. The other a bit larger in size, yet slightly less in paper quality and cost.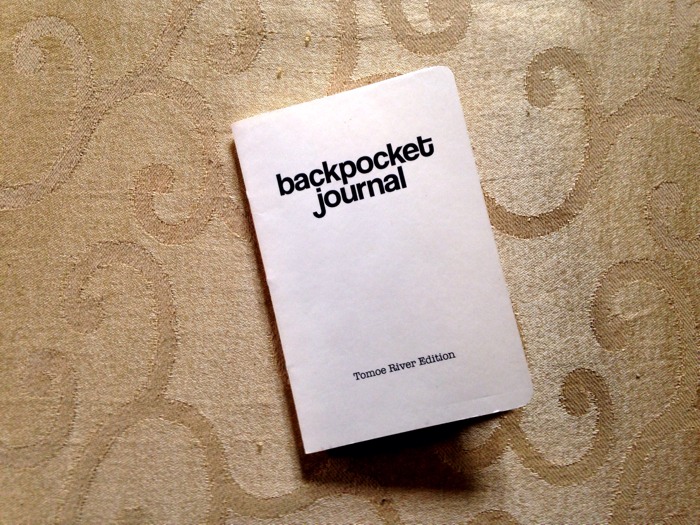 The first of these is the Backpocket Journal from Curnow Bookbinding and Leatherwork. These are about a half inch smaller in height than a Field Notes notebook but in a similar style. The hallmark feature, though, is the paper inside — Tomoe River. For those not in the know, Tomoe Rover is considered the creme de la creme of paper these days. Especially among the fountain pen crowd. Tomoe Paper is thin yet has no bleed through or feathering. Also, because of its lack of thickness one can fit a surprising number of pages into a notebook and still stay pretty thin overall. Really lovely stuff.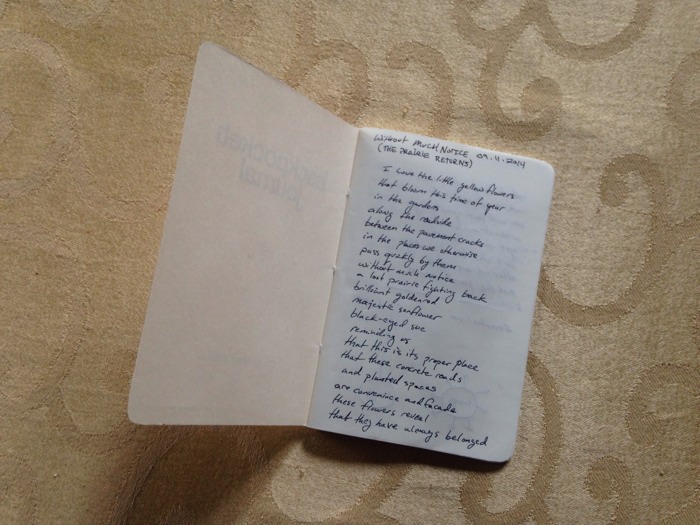 The Backpocket Journal has more of a handmade feel than Field Notes. The cut is very slightly imperfect and it is bound with a single piece of waxed thread. The cover is not quite as thick as Field Notes but feels more a bit more sturdy somehow. The pages inside are blank — and this is the only option — but, conveniently, Curnow includes a lined backing card to place behind the page you are writing on to help you keep things straight. It's a nice touch.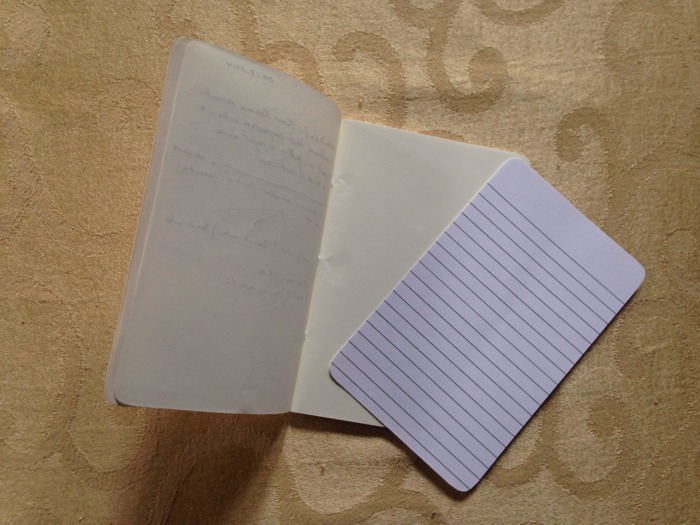 I should take some time out here to mention the ordering process as it is unusual. Curnow does not have an online store to order their products from. The transaction is handled through a combination of Facebook page, email, and PayPal. First, one goes to their Facebook page to check availability. Next, one sends an email to the company saying what they wish to order. Then, they reply by email with instructions for completing the order from there. It's all very unusual but what can you do.
At $12.95 for a three pack, these are slightly more expensive than Field Notes. But, the paper quality certainly warrants the added expense.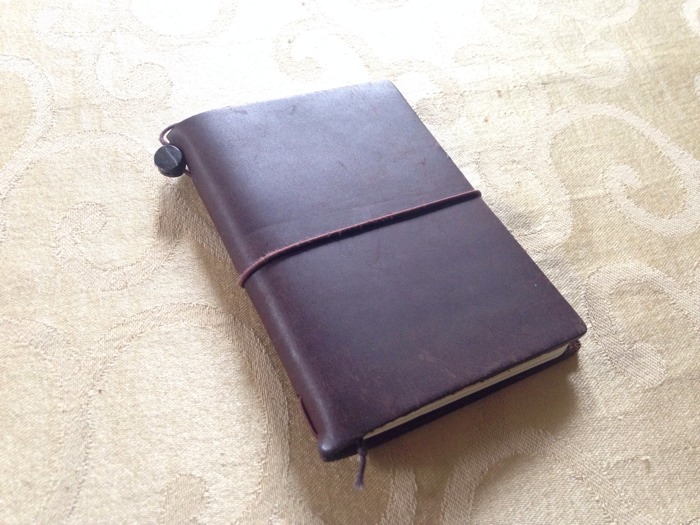 As a side note, if you are looking for a nice leather cover that fits the Backpocket Journal perfectly, the passport size of the Midori Traveler's Notebook is great. I have a nice leather cover that I use with my Field Notes, but the Backpocket Journals are too small for it. So, the Midori cover was a welcome discovery.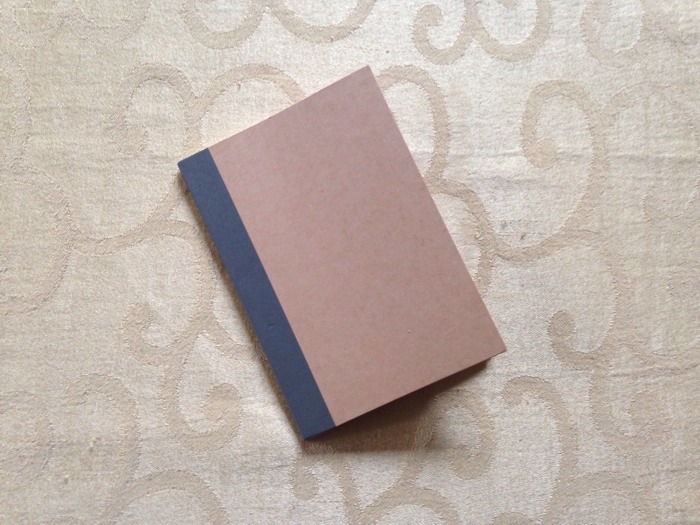 On the other side of the coin is the MUJI A6 line of Recycled Paper Notebooks. These are slightly larger than Field Notes — about a half inch wider and a quarter inch taller. Yet, they are about the same thickness and still quite "back pocketable". Similar to Field Notes, you get a nice, sturdy, craft paper cover. These also are available in your choice of lined, gridded, or blank pages. But, from there, the similarities depart.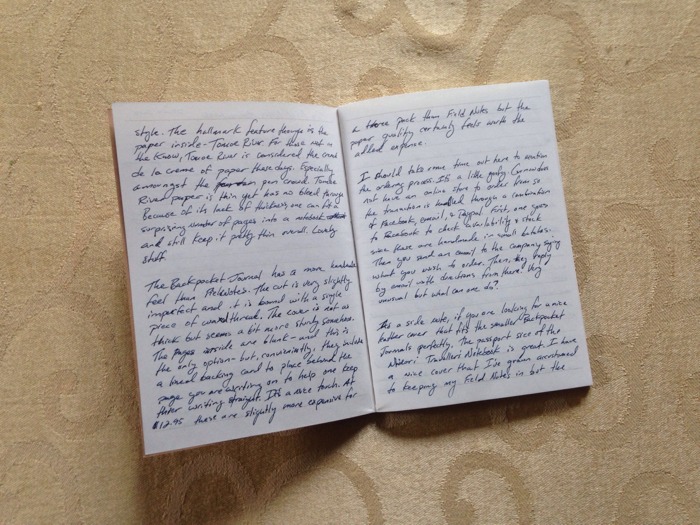 These are fully thread-sewn bound. Which, unlike the staples used in Field Notes, are less likely for the pages to become unattached from the cover over time and use. Also, the binding is nicely protected on the outside by a contrasting strip of tape. Thus, giving these a more long lasting feel.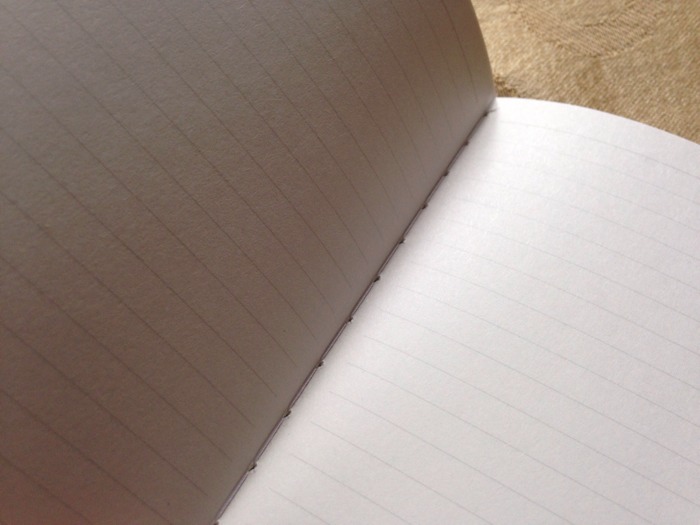 Though the paper is recycled it is not horrible to write on. It does have a small bit of tooth but it takes fountain pen well enough with little discernible feathering. In fact, I wrote the initial draft of this review in the MUJI using a Pilot Metropolitan with a fine nib. The pages are thick enough that there was no bleed through. This, despite the fact that from a paper quality standpoint I would rate it slightly less than a standard Field Notes.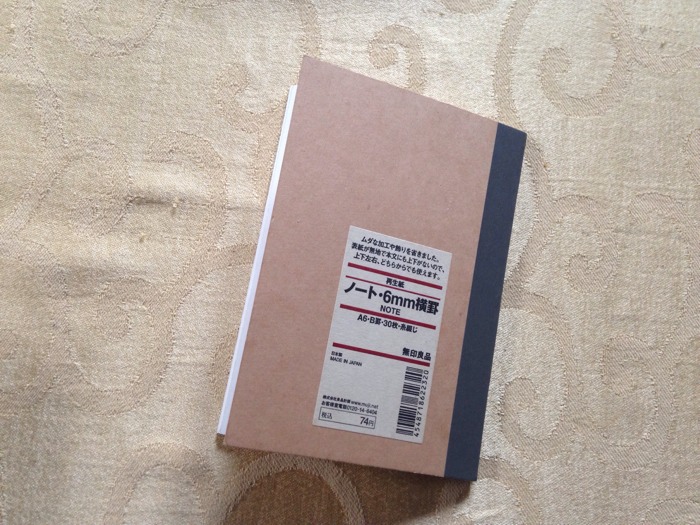 But, another big factor here is the price. These are sold individually at only $1.25 a piece. So, basically, $3.75 for three versus $9.95 for three Field Notes. Sure, these don't have the same "geek cred", fun special editions, or witty usage suggestions on the back cover. That said, they more than get the job done and I would argue are more durable in daily use.
To wrap up, both are viable alternatives to Field Notes. I would say it is worth checking out both — especially if you are a regular fountain pen user.